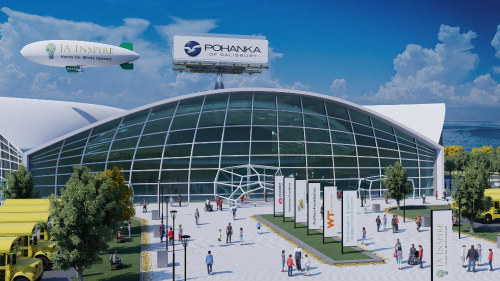 Why JA Inspire?
Not all students receive career mentorship at home or have access to all the career options that are available to them. The JA Inspire Experience gives students that opportunity. Students get to learn about careers from caring mentors in time to plan their high school coursework, have a better path to success, and a pathway out of generational poverty. For businesses, this is your chance to build your future workforce through experiential and hands-on learning. You get to ensure that the skills you need in your employees are the skills taught to your future hires.
What's new for JA Inspire 2021?
Students are going virtual, so we are too! This year, the JA Inspire Experience will be 100% virtual! With the help of an online event platform, JA Inspire will happen entirely online in 2021. Our online platform will allow companies to design their virtual booth, hand out digital flyers, and allow for tons of videos to deliver this same critical information to students. This year, JA Inspire is taking place over a two-week timespan.
March 22-26, 2021

- Middle School Session (8th grade students).
March 29-April 2, 2021

- High School (11th and 12th grade students) and Adult Job Seeker Sessions.
With the new online platform, you'll be able to impact more students than ever! With space no longer being an issue, as a booth sponsor, you will have access to:
One full-day of 3,000 middle school students from 7 counties on Maryland and Virginia's Eastern Shores.
Another full day of almost 3,000 11th and 12th-grade students from 7 counties on Maryland and Virginia's Eastern Shores.
An evening session for local adult job-seekers in your employment area.
You can triple your business' exposure at JA Inspire Virtual 2021, and reach 6,000 students across the Shore. Here, you can inspire AND hire the future of your business.
The workforce is changing. You need employees that are adaptable and prepared to take your company to the next level. Join hundreds of other businesses' from The Shore that are preparing for the future. Click the buttons below to learn more and register for the event!
Take a look inside the JA Inspire Virtual Experience 2021!
JA Inspire Virtual - Conference Center Lobby - Students enter the JA Inspire Virtual Experience through the virtual conference lobby.
JA Inspire Virtual - Exhibit Hall - Your booth is located inside your virtual industry exhibit hall. As an Industry Sponsor, your company logo displays largely in the center of the hall for maximum exposure and line of sight.
JA Inspire Virtual - Conference Auditorium
- As a Webinar Sponsor, you will provide valuable workforce and career knowledge to students throughout the event. Your webinars are pre-recorded, allowing you to receive high-level exposure to sought-after talent while your business remains fully-staffed and operational during your workday. Impact without interruption!
JA Inspire Virtual - Virtual Booth
- As a Booth Sponsor, this is your time to shine! Future hires can get a first-hand look at a day inside the life of your company. With our new virtual event platform, you can provide students and potential candidates the best your business has to offer:
Detailed descriptions of your business
Marketing videos, infographics, flyers, handouts, photos, etc. - all virtual, no hassle! These items will stay with the student in their event "swag bag."
Listings of current job openings and how to apply NOW!
Career options and pathways, education requirements, and more!
Your options are limitless! And the best part?! You don't have to do any of this alone! A JA staff member will be assigned to you to aid you in setting up your booth, answer your questions, and troubleshoot. We're here to help!
Want to join us? Click on the buttons below to learn more and register for the event!
View A Look Inside JA Inspire Virtual! About A Look Inside JA Inspire Virtual!
View JA Inspire 2020 Impact About JA Inspire 2020 Impact
View JA Inspire Video Library About JA Inspire Video Library