JUNIOR ACHIEVEMENT OF THE EASTERN SHORE RECEIVES $20,000 GRANT FROM ARBY'S FOUNDATION
Author: Ricky Pollitt
Community Involvement
Published: Thursday, 03 Feb 2022
---
Sharing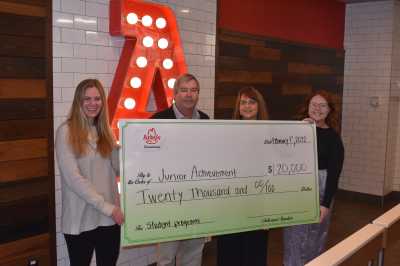 Image caption: Members of Junior Achievement of the Eastern Shore and Arby's pose with a $20,000 grant awarded to JAES.
Eastern Shore, MD – Junior Achievement of the Eastern Shore has received a $20,000 grant from the Arby's Foundation as part of their Make a Difference Campaign local grants program. The grant funds will help bring JA programs to thousands of students throughout Maryland and Virginia's eastern shore.
Junior Achievement was one of 20 non-profit organizations in the United States selected by the Arby's Foundation to receive this grant.
"Providing educational programs to our students remains Junior Achievement's mission, and we are so thankful to the Arby's Foundation for supporting our efforts and helping our mission succeed," said Jayme Hayes, President of Junior Achievement of the Eastern Shore.
The Make a Difference Campaign includes a designated market area grants program whereby 50% of total funds raised in each market are reinvested locally to benefit deserving local non-profits focused on youth-centric initiatives.
Local Arby's employees also raised nearly $9,000 in donations for Junior Achievement in a separate campaign. Funds raised help bring financial literacy, work readiness and entrepreneurship programs to schools that partner with Junior Achievement of the Eastern Shore.
"We're so appreciative of our local Arby's workers," Hayes said. "Our community has devoted itself to improving our students' education, and the dedicated employees of Arby's have ensured that continues to happen."
About Junior Achievement of the Eastern Shore
Junior Achievement of the Eastern Shore (JA) is a non-profit organization dedicated to providing possibility and powering potential for students, grades K-12, on the Shore. As the liaisons between business and education, we immerse ourselves in local business industries, identify the needs of the marketplace, and develop an innovative, needs-based curriculum that is brought to life by volunteers in our community. At JA, we believe in a world where every child's story ends in success, and we won't stop until that happens.
About Arby's Foundation
The Arby's Foundation, the independent charitable arm of Arby's, helps America's kids dream big and pursue their dreams with confidence. Building on a philanthropic heritage that has contributed more than $90 million to youth-related causes since its inception in 1986, the Arby's Foundation is committed to helping kids build, expand and pursue their dreams as we focus our efforts in childhood hunger, youth leadership and career readiness initiatives. The Arby's Foundation is part of the Inspire Brands Foundation, a registered 501(c)(3) organization headquartered in Atlanta, Georgia.
Media Contact
Ricky Pollitt
Communications Coordinator
410-742-8112
ricky.pollitt@ja.org