JUNIOR ACHIEVEMENT OF THE EASTERN SHORE TO HOST 36TH ANNUAL GOLF TOURNAMENT
Author: Ricky Pollitt
Community Involvement
Published: Monday, 25 Apr 2022
---
Sharing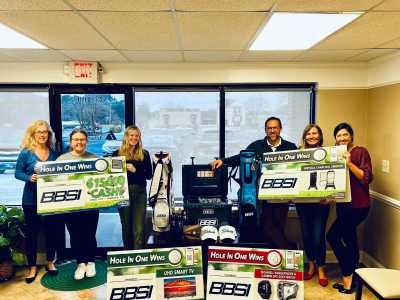 Image caption: Jim Fuss of BBSI and members of Junior Achievement of the Eastern Shore pose for a photo prior to the 36th Annual Golf Tournament hosted by JA.
Media Contact:
Ricky Pollitt
ricky.pollitt@ja.org
410-742-8112
FOR IMMEDIATE RELEASE
JUNIOR ACHIEVEMENT OF THE EASTERN SHORE TO HOST 36TH ANNUAL GOLF TOURNAMENT
Salisbury, MD-- Junior Achievement of the Eastern Shore will host its 36th Annual Golf Tournament on April 28, 2022 at the Glen Riddle Golf Course in Berlin, MD. The tournament is presented by BBSI and sponsored by R&R Coatings, Gillis Gilkerson and Mountaire Farms.
The event is the longest-running golf tournament on the Shore, attracting hundreds of top-tier business owners and corporations from leading companies up and down the Eastern Shore.
Last year's tournament, which was the largest in JAES history, featured 140 golfers and raised over $45,600 for student programs. The 2022 event is expected see similar numbers as teams from five Maryland counties take the green.
"We're super excited to bring this tournament back for a 36th year," said Jayme Hayes, president of Junior Achievement of the Eastern Shore. "The money raised supports our students and schools by creating more access to JA programs, while also allowing golfers a day of fun, competitive play to kick off the season."
Participants will enjoy a complementary catered lunch, drinks and cocktails, cigars, a post-play reception, awards, contests and prizes, a 50/50 raffle, and much more.
Events like JA's golf tournament are crucial to the continuation of JA programs. All proceeds go towards keeping programming free for students and program innovation.
"We certainly couldn't do something like that without support from the community," Hayes said. "With this being our 36th year, it is a testament to an amazing community that continues to support students across the Shore each year."
To learn more about Junior Achievement of the Eastern Shore and its events and programs, visit easternshore.ja.org.
About Junior Achievement of the Eastern Shore
Junior Achievement of the Eastern Shore is a non-profit organization dedicated to educating youth, grades K-12 both public and private, on financial literacy, work readiness, and entrepreneurship. Our hands-on, age-appropriate programs inspire youth to live within their means, prepare for the world of work and understand the free enterprise system. We are an enhancement to what kids learn in school and a direct link to real-life applications, making school relevant and increasing students' engagement in the classroom.
# # #