JA Finance Park: Preparing students for financial success
Author: Ricky Pollitt
Financial Literacy
Published: Tuesday, 19 Jul 2022
---
Sharing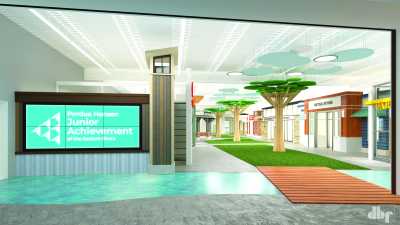 Image caption: JA's mission is to prepare young people to succeed outside the classroom, and one of the fundamental methods to ensure this is money management.
It's easy for a teenager to get excited when a considerable amount of money comes their way.
Most immediate reactions go towards how that money will be spent. Whether it be a new gaming console, stylish clothes or a fancy vehicle, money can certainly bring short-term happiness, but it can have a far greater impact when used the correct way.
That's what JA Finance Park aims to achieve. The program, offered by Junior Achievement of the Eastern Shore, will be taught at the upcoming Perdue Henson Junior Achievement Center which will house over 10,000 students per year.
JA's mission is to prepare young people to succeed outside the classroom, and one of the fundamental methods to ensure this is money management.
Students apply learned concepts in a real-life setting, receiving a "life scenario" which includes a family, job/income, and other pertinent factors.
Students visit businesses to gather information for making personal financial decisions for bank services, housing, transportation, furnishings, food, health care, and other expenses. Other decisions include post-secondary education, investing, and charitable-giving.
Budgets must be balanced, and throughout the process, students have the opportunity to identify personal interests, skills, work preferences and values that will help them identify future, real life career interests.
What better way to prepare these students for the future than putting them in those very scenarios with the opportunity to learn and grow?
A student may be told they make $28,000 a year, are a single parent to three kids, and have countless bills they must pay off. Through the lessons and facility resources, students can determine the best route to ensure they can succeed despite the multiple challenges.
Others may experience scenarios where they make over $100,000 but must still learn the importance of budgeting so they don't waste their earnings on damaging or pernicious purchases.
To provide a better understanding of how budgeting and personal finance decisions can benefit them, students will conduct business in local storefronts located at the Perdue Henson Junior Achievement Center.
Businesses and corporations like Pohanka of Salisbury, TidalHealth, Green Street Housing and many more have partnered with Junior Achievement to provide students with a true look of how best to navigate and succeed in the local economy.
Part of Junior Achievement's mission is to showcase the high-demand jobs that exist here on the Eastern Shore. By providing local storefronts, students get an early look at how these businesses can benefit them by making financially friendly decisions.
Once they conquer JA Finance Park, an advanced version is offered, honing in on career interests and allowing students to create their life situation versus being given a scenario prior to visiting the center.
The JA experience helps foster the self-belief and sense of purpose necessary for young people to overcome challenging circumstances.
Just two in five adults track their finances with a budget, according to the National Foundation for Credit Counseling, and one in three adults carry a credit card balance monthly, and nearly just as many have nothing saved for retirement.
JA curriculum increases the financial capability of students, where research shows nearly 90% of JA Alumni are confident in managing their finances.
By providing programs like JA Finance Park, we are preparing our students to succeed in the global economy.