Junior Achievement of the Eastern Shore Joins the Global Giving Tuesday Movement
Goal is to Raise $13,750 to Help Bring Financial Literacy, Entrepreneurship and Work Readiness Education to Local Students
Author: Richard Pollitt
Community Involvement
Published: Tuesday, 23 Nov 2021
---
Sharing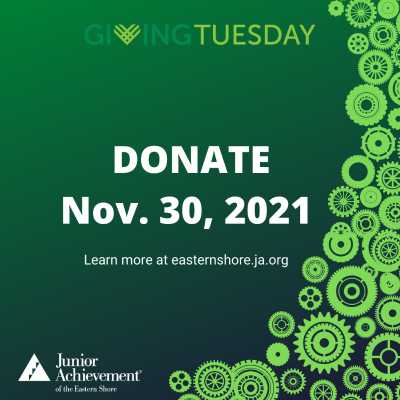 Image caption: Donate to Junior Achievement of the Eastern Shore on Giving Tuesday
Media Contact:
Richard Pollitt
410-742-8112
FOR IMMEDIATE RELEASE:
Junior Achievement of the Eastern Shore Joins the Global Giving Tuesday Movement
Goal is to Raise $13,750 to Help Bring Financial Literacy, Entrepreneurship and Work Readiness Education to Local Students
Eastern Shore, MD – Junior Achievement of the Eastern Shore will participate in Giving Tuesday, a global day of giving that harnesses the collective power of individuals, communities and organizations to encourage philanthropy and to celebrate generosity worldwide.
Occurring this year on Nov. 30, Giving Tuesday is held annually on the Tuesday after Thanksgiving, and the widely recognized shopping events Black Friday and Cyber Monday, to kick-off the holiday giving season. The day aims to inspire people to improve their local communities and give back in impactful ways to the charities and causes they support.
"Junior Achievement helps young people create successful futures by giving them the skills and knowledge to be successful in the world of work," said Jayme Hayes, President of Junior Achievement of the Eastern Shore. "We ask the Shore community to support JA's mission by going to EasternShore.JA.org and donate on November 30, Giving Tuesday. Our goal is to give thousands of local students access to JA programs, and we're asking for the community's support."
A donation to JAES will directly impact the lives of youth on the Eastern Shore. Our goal of $13,750 would help sustain our traditional programming and is essential to our continued growth. A $250 donation would fund a hands-on experience for a student, allowing them to participate in JA Inspire, Leadership Day, Ag Day or other events. A $500 donation would help fund a special programming, such as converting a program to braille to allow visually impaired students to learn about financial literacy or providing a program in a different language.
About Junior Achievement of the Eastern Shore
Junior Achievement of the Eastern Shore (JA) is a non-profit organization dedicated to providing possibility and powering potential for students, grades K-12, on the Shore. As the liaisons between business and education, we immerse ourselves in local business industries, identify the needs of the marketplace, and develop an innovative, needs-based curriculum that is brought to life by volunteers in our community. We teach concepts that equip and inspire our students to live within their means, build wealth, identify fulfilling career pathways, prepare for the "new norm" of work, and explore entrepreneurial thinking that stimulates our local economy and employs our neighbors. Our interactive, fun approach and digestible curriculum help students connect what they're learning in school to real-life experiences; encouraging students to stay in school and making life after graduation a possibility. Programs are provided to our schools at no cost to ensure all students, no matter where they find themselves in life, have access to JA's vital programming. At JA, we believe in a world where every child's story ends in success, and we won't stop until that happens.
About Giving Tuesday
Giving Tuesday is a movement to celebrate and provide incentives to give. This effort harnesses the collective power of a unique blend of partners — nonprofits, businesses and corporations as well as families and individuals — to transform how people think about, talk about and participate in the giving season. Giving Tuesday inspires people to take collaborative action to improve their local communities, give back in better, smarter ways to the charities and causes they celebrate and help create a better world. Giving Tuesday harnesses the power of social media to create a global moment dedicated to giving around the world.