Junior Achievement Summer Style: Have Fun and Become an Entrepreneur
Author: Ricky Pollitt
Entrepreneurship
Published: Tuesday, 21 Jun 2022
---
Sharing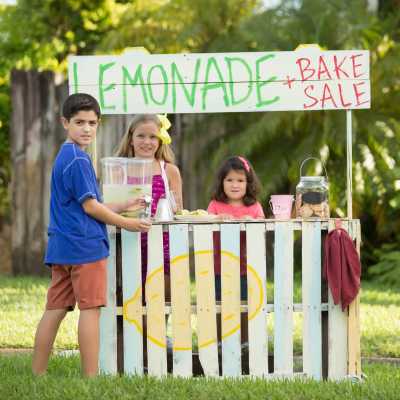 Image caption: A group of children create a lemonade stand.
The annual summer break is often when students use the allocated time away from the classroom to catch up on sleep, hang with friends, take tropical vacations with family or simply just relax.
It also serves as an opportunity – a chance to hone one's skills and start taking early steps into career preparation and workforce development.
That doesn't necessarily mean a formal summer job, often sought out when students enter their high school years. Younger children – especially at the elementary school level – have a surplus of fun opportunities and activities they can partake in to begin understanding the importance of financial literacy, work readiness and entrepreneurship.
Junior Achievement of the Eastern Shore specializes in these three components, offering our programs to nearly 15,000 students in school districts throughout the region.
By exposing students to these lessons, they are better equipped to find financial success once entering the workforce. Research shows JA alumni are more likely to have a college degree, feel confident managing money, have career success and start a business should they desire.
While JA programs are primarily taught during the academic year, there are still plenty of options for parents and guardians to ensure educational learning is still taking place in the summer months.
From starting fun, interactive businesses to creating an entrepreneurial plan, here is a JA recommended way to preparing your child for the demands of the workforce.
Start a Business
Now, we're not talking about a multi-million-dollar corporation – although that would be incredible if your child is able to develop one over a summer's course – but rather small yet impactful businesses that still service a need.
Lemonade stands, pet care and car washes are just a few examples of easy and doable businesses you and your child can create to help them understand the importance of entrepreneurs and the steps needed to start a successful business.
But before you do anything, parents and guardians must first see what kind of work interests their youth.
The "Give Mom a Minute" blog recommends separating ideas into three main categories: services, sales, and education. This will narrow down what type of business you and your child should create, and don't be afraid to take field trips to local stores and organizations to get a true understanding of what that business specifically does.
Every child has their strengths. Do they enjoy playing in the dirt? Perhaps some type of landscaping business would interest them. How about riding a bike? Some type of delivery business could be right up their alley.
Once you determine what type of business best fits a child's strength and interests, you're ready to move on to an entrepreneurial plan.
How will they pay for this business? What materials do they need to get it running? Where will their profits go? Having a student write a physical plan could be the difference in whether their business thrives or dives.
Once a plan is in place, the young entrepreneur can reference back to see where they are in the business-planning process and what needs to be done to achieve success.
As the parent or guardian, offer advice and assurance, but push your entrepreneur to make their own decisions. They are the boss, the CEO, and the founder of their business.
Once a plan is in place, materials are purchased and a vision is set, you're ready to open the business!
But before you officially open your doors, make sure you advertise. Make flyers, posters, post on social media so the word gets out about your child's newest adventure. Advertising can make or break a business, so don't be afraid to think outside the box to ensure your product or service gets some recognition.
The work your child does throughout the summer could inspire them to create lasting businesses for the foreseeable future, adding another skilled entrepreneur to the Shore workforce!
In the words of educator and author Peter Drucker, "The best way to predict the future is to create it."
Make sure to send us at Junior Achievement plenty of photos so we can see your child's business and its growth.
If you're running short on ideas for a business, check out these options courtesy of the "Give Mom a Minute" blog:
Lemonade Stand
Dog Walking
Lawn Care/Work
Car Wash
Tutor
Help Neighbors